"Apparel & Accessories > Clothing > Sleepwear & Loungewear > Pajamas"
Panda Onesie
Panda Onesie
24
Average rating:

Write a review | Read all reviews
A$49.99
A$24.99 On Sale!
You Save
24.99
49.99
More Details
Reviews
Other related items
Panda Onesie More Details
PANDA ONESIE
The Panda onesie is incredibly stylish with its plain and simple layout and black and white style. You will be the sharpest searching pet on any special occasion, whether it's a elegant dress party or a sleepover party. Exuding design does not mean missing out on comfort and ease! This onesie is additional cozy and snuggly. The Panda onesie is among our most widely used items so this is exactly why we ensured it was on the market to as lots of people as possible, regardless of what age group. We sell it off in its normal size but we also provide it in the two Kigu Kids sizes. Take a look at our shop and get your self this endangered species at this time. Along with the onesie, you can also purchase a pair of black feet slippers to make your sleepy-time ensemble paws-itively perfect!
Materials/Ingredients
High Quality Flannel Fleece
Size & Fit Guide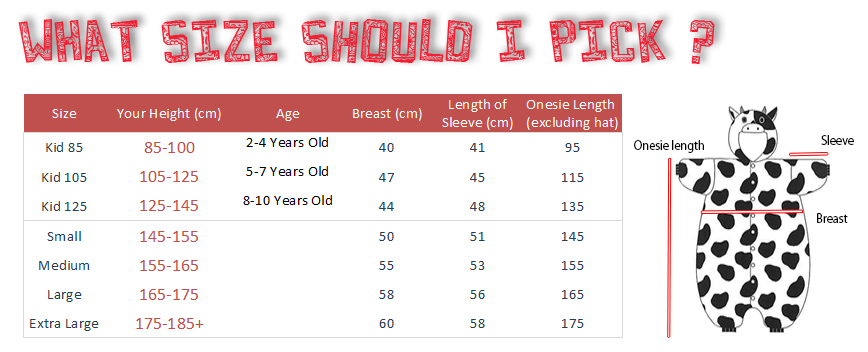 Shipping Details
Australia Post - Express Service
Returns
30 Days Return/Exchange Policy
Reviews
Panda Onesie
24
Average rating:

Write a review
|
Read all reviews
Featured positive reviews:
Panda Onesie

29577
05/23/2015
Ordered the panda onsie with matching slippers for an animal themed costume party.Worked great with the theme, especially as an easy and comfy costume.

The slippers were extremely comfy, very well padded so it felt like you were wearing clouds. The onesie itself was very comfy, and the fit was fine except for the length - I ordered a medium which is meant for 156cm-165. I'm only 158cm myself, but the legs were still a bit short by a few inches - just something to keep in mind. That being said, if you wear socks underneath you can't tell.

I'd say good value for the price, and shipping was very quick! Was delivered within 2 days.
Panda Onesie

23998
08/29/2014
We liked the Panda Onesie because it looked like it had longer legs and it looked simple and cute. Delivery was very quick. The suit is really nice thick fluffy velour like fleece inside and out. It's nice and warm and a good size for height. Although if you want it baggy I'd got for a size up for your height.

Nice stitching and really well finished. It has white buttons not black. We're really pleased with the Panda onsie and are really amazed by the price. The little tail at the back is really cute.
Other related items
Kcmaustralia.com is a leading onesie supplier of animal onesies and costume in Australia. We supply variety of onesies to over 80 shops in Sydney, Newcastle, Melbourne, Brisbane, Perth and Adelaide. Sick of the traditional costume? Why don't you try out our animal onesie kigurumi to stand out in the party ? We are committed to supply high quality onesies and great after sales services that meet the buyers' needs. There's no better place to find animal onesie products you need at wholesale price. Kcmaustralia.com has the onesies you need at a price you'll enjoy.
Copyright © 2016 KcmAustralia.com, All Rights Reserved