Giraffe Onesie
Giraffe Onesie
22
Average rating:

Write a review | Read all reviews
A$49.99
A$24.99 On Sale!
You Save
24.99
49.99
Giraffe Onesie More Details
GIRAFFE ONESIE
Giraffes Onesie come, as you'll expect, in an orange and tan print of numerous colors and they're genuinely extremely furry pets. If you need a fleecy, lovable pet costume to maintain comfortable on frosty nights then you'll really like these machine cleanable giraffe onesies which come in a number of designs, prices and sizes.Purchasing a pet onesie requires care. There are lots of giraffe pattern pyjamas and all-in-ones on the market but you should think about what you're going to need it for. If you're just in the feeling for lazing on the couch while watching tv, a easy giraffe print pyjama may be all you need. If, on the other hand, you are feeling more in the celebration spirit or in the feeling for a little bit of fun you need to go the entire hog and acquire the other giraffe costumes that comes with the full-on giraffe face hoody, tail and feet.
Materials/Ingredients
High Quality Flannel Fleece
Size & Fit Guide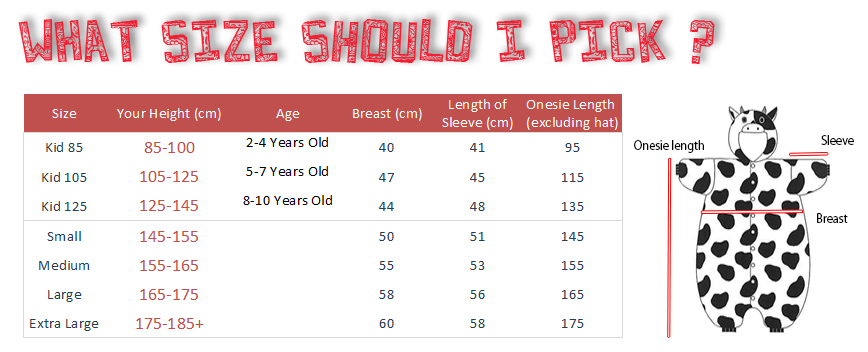 Shipping Details
Australia Post - Express Service
Returns
30 Days Return/Exchange Policy
Reviews
Giraffe Onesie
22
Average rating:

Write a review
|
Read all reviews
Featured positive reviews:
Giraffe Onesie

36123
10/18/2015
Ever since I was born I knew that I was missing something, that I was not complete, a part of me was missing in my soul. But now with this onesie I am unstoppable. My prayers have been answered as the lady piece in the puzzle has been placed. My dreams of running across plains with my brethren, and reaching tree tops with my neck are no longer pipe dreams. I am complete.

Fast service, great company. Would definitely buy from here again and recommend to friends.
Giraffe Onesie

35695
09/23/2015
Was extremely impressed with the fast delivery of the onesies that I'd ordered & the tracking details that were emailed to me. Upon receiving my order the quality of the products was amazing. Definitely will be using KCM Australia Onsies Outfits again and recommending them to family and friends 😊
Kcmaustralia.com is a leading onesie supplier of animal onesies and costume in Australia. We supply variety of onesies to over 80 shops in Sydney, Newcastle, Melbourne, Brisbane, Perth and Adelaide. Sick of the traditional costume? Why don't you try out our animal onesie kigurumi to stand out in the party ? We are committed to supply high quality onesies and great after sales services that meet the buyers' needs. There's no better place to find animal onesie products you need at wholesale price. Kcmaustralia.com has the onesies you need at a price you'll enjoy.
Copyright © 2016 KcmAustralia.com, All Rights Reserved