Shaun the Sheep Onesie
Shaun the Sheep Onesie
26
Average rating:

Write a review | Read all reviews
A$59.99
A$29.99 On Sale!
You Save
29.99
59.99
More Details
Reviews
Other related items
Shaun the Sheep Onesie More Details
Shaun the Sheep Onesie
Shaun the Sheep coming from the Wallace and Gromit franchise. The series stars Shaun the sheep and his madcap adventures around a small farm as the leader of his flock. A feature-length film, titled Shaun the Sheep Movie also features this brilliant Sheep. Now BE that Sheep in the Shaun The Sheep onesie. An unusually bright sheep and with a terrific fascination with human doings and devices, Shaun would be just the sheep you want to be! Add to it the fact that it is made of the softest flannel and is perfectly designed black and white with lovely sheep features and hand gloves and the tail too! The onesie is perfect for an enactment, funny bits and Pajamas parties where you want to be the adventurous being on the friendly farm! Fun fact- Shaun the Sheep has over 5 million Facebook fans. So, there you go, Popular Person.
Materials/Ingredients
High Quality Flannel Fleece
Size & Fit Guide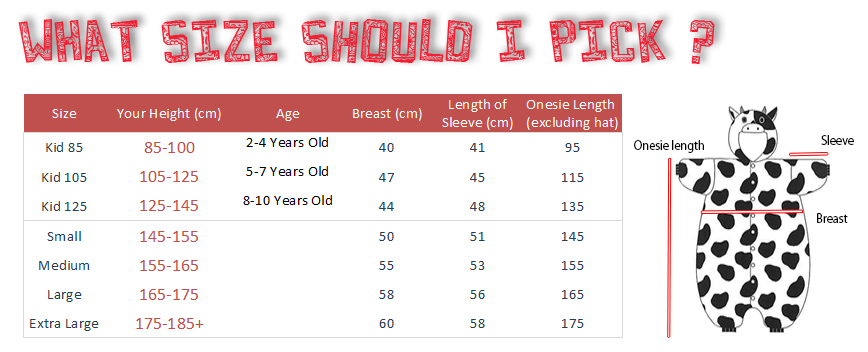 Shipping Details
Australia Post - Express Service
Returns
30 Days Return/Exchange Policy
Reviews
Shaun the Sheep Onesie
26
Average rating:

Write a review
|
Read all reviews
Featured positive reviews:
Shaun the Sheep Onesie

1
09/16/2015
The KCM australia onsie outlet is a reliable and trusty website, where we can without any worry pay for and recieve them on beatable prices and dates. I have been looking for cheap onesie for a month now, but have to agree that KCM australia onesie outlet is the best shopping choice that i made ... it not only provides products with cheap price but also good quality.... :D ...
Shaun the Sheep Onesie

41162
06/08/2016
This was just perfect. The person I got it for loves Shaun the Sheep and it was just adorable (especially the sheep gloves that came with it). Postage was really fast and support was really fast answering my questions.

Awesome product for how cheap it was.

Kcmaustralia.com is a leading onesie supplier of animal onesies and costume in Australia. We supply variety of onesies to over 80 shops in Sydney, Newcastle, Melbourne, Brisbane, Perth and Adelaide. Sick of the traditional costume? Why don't you try out our animal onesie kigurumi to stand out in the party ? We are committed to supply high quality onesies and great after sales services that meet the buyers' needs. There's no better place to find animal onesie products you need at wholesale price. Kcmaustralia.com has the onesies you need at a price you'll enjoy.
Copyright © 2016 KcmAustralia.com, All Rights Reserved