Minion Onesie
Minion Onesie
33
Average rating:

Write a review | Read all reviews
A$49.99
A$24.99 On Sale!
You Save
24.99
49.99
More Details
Reviews
Other related items
Minion Onesie More Details
MINION ONESIE
Minions are small, yellow creatures who have existed since the beginning of time, evolving from single-celled organisms into beings that have only one purpose: to serve history's most despicable masters. They were the centre of the film series Despicable Me and now their own spin off movie- Minions. Now be an adorable Minion in this onesie which completely ups your cute and fun quotient. Besides being absolutely delightful, it is designed in flannel and in a pretty blue dungaree design (totally like a Minion) to keep you cozy incase you choose to go to bed in it. The face of the Minion would be on the hood so hood up in case you want to be a full Minion. Also, the Minion is central to many video games, books and theme park attractions! The Minions were initially supposed to be large and orc-like, but through development they kept getting smaller and smaller. So be the largest and the most adorable Minion there is! .
Materials/Ingredients
High Quality Flannel Fleece
Size & Fit Guide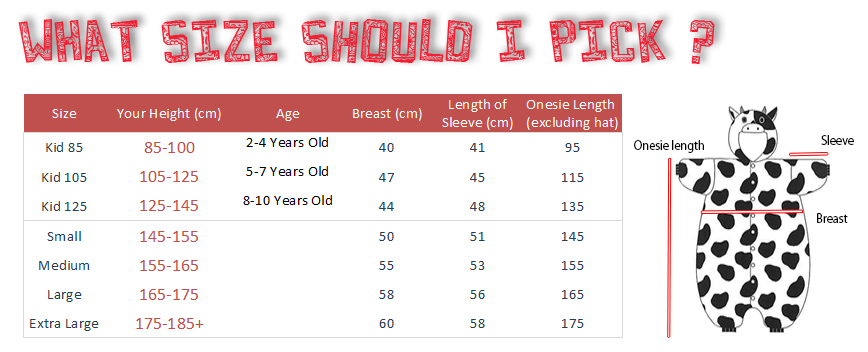 Shipping Details
Australia Post - Express Service
Returns
30 Days Return/Exchange Policy
Reviews
Minion Onesie
33
Average rating:

Write a review
|
Read all reviews
Featured positive reviews:
Minion Onesie

Minion
05/20/2015
This onesie is the most amazing quilty and comfort it is so multi functional it can be warn to bed with some much comfort and out on the street for every on to see also is so warm in winter it is so amazing just to sit and cuddle with I would give this product a 10/10 and would recommend people to buy this amazing super cute minion onesie.⭐️⭐️⭐️⭐️⭐️ 5 star rating😃
Minion Onesie

48317
10/26/2016
Recently bought 3 onesies from KCM Australia and cannot be happier! Delivery arrived within 2 working days and the processing was quick! They're very efficient with their work and their onesies are absolutely amazing! My friends will love their onesies! Will buy again and definitely recommend getting your onesies from KCM Aus - you don't wanna miss out!
Kcmaustralia.com is a leading onesie supplier of animal onesies and costume in Australia. We supply variety of onesies to over 80 shops in Sydney, Newcastle, Melbourne, Brisbane, Perth and Adelaide. Sick of the traditional costume? Why don't you try out our animal onesie kigurumi to stand out in the party ? We are committed to supply high quality onesies and great after sales services that meet the buyers' needs. There's no better place to find animal onesie products you need at wholesale price. Kcmaustralia.com has the onesies you need at a price you'll enjoy.
Copyright © 2016 KcmAustralia.com, All Rights Reserved